WELCOME TO EYEWEAR NATION!
CUSTOMER TESTIMONIALS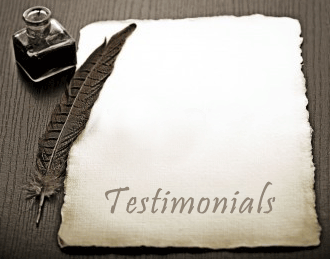 If you are a satisfied customer of ours & would like to add your own testimonial, please email us at service@eyewearnation.com
Antoinette A. from Bridgeview, IL
"I ordered a pair of Kazuo Kawasaki glasses (Sarah Palin glasses) online from Jeff. I talked to him in person and I just want you to know he did a fantastic job. Not only can I see so good with these glasses, I can't believe it ... I just love them. He got everything right. I just can't believe the service and I will certainly use you guys again. Everything was perfect, and I'm in the Chicago-land area and you're in California! These were better than the glasses I received in my local area. Thank-you again!"
Vicki B. from Perkasie, PA
"I just received my glasses and I love them! And...I can see great out of them ... you did a great job. They fit and the prescription is very good."
Vicki B. from Perkasie, PA
"I just wanted to follow-up with you and tell you how happy I am with my second order too. Thank you very much. Your service is great!"
Teianna L. from Middletown, PA
"I just wanted to let you know I received my Kazuo Kawasaki glasses today. I am so happy with the quality and fit. The prescription is perfect and I thank you very much for getting this order correct and in a timely manner. It has been a pleasure to do business with you and I will definitely use you in the future. The glasses are so light weight and comfortable and exactly what I was looking for. I will recommend you to my friends for sure. Thanks again for all your help and quality product."
Cynthia C. from Clarksburg, WV
"Just wanted to send a thank you to your customer service department. Jeff was most helpful in the ordering process, and Jane assisted me with my questions about proper handling of my new K-Klips. I'm extremely pleased with my new glasses. A new experience for me...ordering eye glasses over the internet! You made it a good experience ... again, thank you to your customer service staff and your lab that does such beautiful work. I will recommend you to all my friends (and my ophthalmologist who urged me to go ahead and order on line). If you watch this ... you will see how fantastic your craftsmanship, the Kawasaki Sarah Palin with G-15 K-Klips, look on me. I could not be more pleased."
Deana H. from Palmdale, CA
"I got the glasses and I love them. They are so comfortable, feel so light and don't make ridges in my nose, there is no border, my vision is clearer. Thank you so much, they are terrific."
Marilyn F. from Levittown, NY
"I have never ordered eyewear online before but I just placed an order with Eyewear Nation after a full week of deliberating if I should. If it hadn't been for the incredible customer service of one of your people, I would have changed my mind. Jeff was everything I could have asked for. He answered every one of my many questions immediately and thoroughly, as well as offering suggestions, which I listened to intently. He was most generous and patient with his time and advice. I do a lot of online buying, and I have never encountered anyone quite like him. Thank-you for making my shopping experience with you an outstanding one!"
Debra H. from Fairfax, VA
"Thank you very much for taking great care in inspecting the frame before shipping it. I truly appreciate your professionalism in doing this. I will let you know if I want to see the silver one as well."
Nancy D. from Montrose, CO
"I just received my new glasses, thank you so much, I love, love them. They look almost as good as Sarah Palin, LOL!"
Jerry A. from Angleton, TX
"I have already recommended you to 3 people and will continue to do so. Thanks for the great price/service. Will do business again ... thanks, Jerry!"
Vickie A. from Chesapeake, VA
"I recently ordered eyeglasses from your store and they are awesome. I appreciate your professionalism, it was a pleasure doing business with you."
Hideyuki Watanabe from Kanagawa, Japan
"I could receive the sunglass today! Thank you so much for your cooperation. I'm not good at English so I don't know how to express my big appreciation. I just would like to say thank you. Actually, this is my first experience to buy a product from abroad website. Everything fine!"
Marcia F. from Rio de Janeiro, Brazil
"I finally got! I'm so happy! I thank all my heart the great discount that you gave me and for your kindness for everything! I'll buy more next month."
Daisuke F. from Los Angeles, CA
"I got my Ray-Ban prescription glasses, that was really great! I really want to shop through your store again! Also, I told my friends about your store, and they were interested with that! Thank you so much!"
Lillie B. from Metairie, LA
"I am very pleased with my glasses! Thank you so much for the time and attention that you gave to my order. I would recommend your company to others. Thanx!"
Joakim N. from Norway
"I have now received the package, it went through the customs without costing me extra vat. Thank you, it worked. I will recommend Eyewear Nation to all I know for the good service."
Mattias K. from Sweden
"I just wanted to let you know that I received my sunglasses in perfect condition. They were exactly as I thought and not too big in any way. The package went smoothly through customs without any additional money I had to spend on VAT. Thanks a lot for your outstanding service all through this deal! I would certainly buy from you again."
Kim W. from Oneonta, AL
"I wanted to let you know that I love the glasses I ordered. I appreciate your help in everything you did to make my order perfect. I was very impressed by your detail in helping me. It was a great service. Hope you have a great Christmas and a Happy New Year! Thanks again."
Russell P. from Bradenton, FL
"I wish to extend my sincere appreciation to you for all you did to fulfill my order. Your company exceeded all of my expectations. It was a very nice touch to send me the card to put in my wife's Christmas stocking with a picture of the item I ordered, which was on back order, and then when the product was received by you, your prompt shipment of the item. Eyewear Nation definitely is customer service oriented! Again, thank you and Happy New Year."
Carrie H. from Blacksburg, VA
"I would love the opportunity to pass on my experience with Eyewear Nation. After scouting a new pair of sunglasses for both my husband and myself at our local Sunglass Hut kiosk, I rushed home to see if I could find them online for cheaper. I found several websites that just didn't look legitimate. I came across your website after almost giving up. I found both pair for much less! How much??? Mine were $70 cheaper and my husband's were $60 cheaper! I saved enough to buy a third pair! Because our town has a "buy local" initiative, I thought I'd give Sunglass Hut the opportunity to match your price ... guess you know how that went! I am now a customer for life! I'll be shopping for my new eyeglasses next! Thank you so much for offering your products for cheaper so that the consumer can save a few bucks! Cheers!"
Christina W. from the Navy Advancement Center, Pensacola, FL
"Good morning, just to let you know that I received my glasses and I absolutely love them! Thanks for such a great job!"