WELCOME TO EYEWEAR NATION!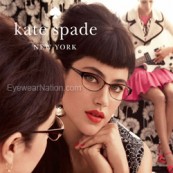 Kate Spade is a fabulous signature line of designer eyeglasses which comes in a variety of styles, frames and colors. Kate Spade designer eyeglasses define classic style with each frame carefully crafted to ensure ultimate glamour and durability. Trendy Kate Spade designer eyeglasses focus on geometric shapes, including modified ovals, rectangles, and squares. Kate Spade designer eyeglass frames feature smart color combinations with double-laminated and fade treatments. Kate Spade designer eyeglasses sets a new trend in fashion designer frames.
Can't find a frame you're looking for? As long as the frame is not discontinued, just
contact us
and we can get it for you.
There are no products to list in this category.