WELCOME TO EYEWEAR NATION!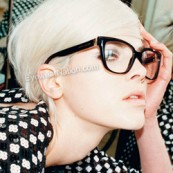 Marc Jacobs eyeglasses are unique and sophisticated. Marc Jacobs eyeglasses are made with high quality frames and made exclusively in Italy. Polished metal bridge, comfortable nosepieces, polished metal hinge with enamel detail and wide plastic arms with logo etchings are special features of Marc Jacobs eyeglasses.
Can't find a frame you're looking for? As long as the frame is not discontinued, just
contact us
and we can get it for you.
There are no products to list in this category.